The Baron's Ball
October 8, 2022
Halifax River Yacht Club
331 S. Beach St. Daytona Beach
Proceeds To Benefit The 'Carl & Patti Rang Scholarship Fund'
Historic Impressionists of Florida
You are hereby invited October 8, 2022 to our Annual Baron's Ball.

Be a part of this fun filled evening event honoring the wonderful turn of the century history of the Daytona Beach area!

The event is set between 1890 and 1920 for attire or come dressed in modern formal wear and have a great time!
The evening will be a showcase of what an evening would have been like in the golden years of our area's history.

Henry Flagler bought the Ormond Hotel in 1889 and made it a must stop for the wealthy vacationers coming to Florida. John D. Rockefeller came for years to Winter in the area and eventually bought The Casements in 1918.
During this time, the rich and the famous from around the world came to vacation and winter in Ormond Beach. These included Edward, the Prince of Wales, Henry Ford, Thomas Edison, Al Capone and comedian Will Rogers who once said to Rockefeller while visiting here:

'"I'm glad you won at golf today, Mr. Rockefeller. The last time you lost, the price of gasoline went up!"

The Ball will be held at the Halifax River Yacht Club at 331 S. Beach St, Daytona Beach, Florida 32114. This Yacht Club was founded in 1896 and is the oldest continually operating yacht club in the Eastern United States.
Many of the people named above were members or guests of 'The Club'.
Many historical reenactors will be wearing authentic clothing designs from the time frame. Attendees can dress either in clothing from this age or modern evening wear.
Halifax River Yacht Club
with Complementary Valet Parking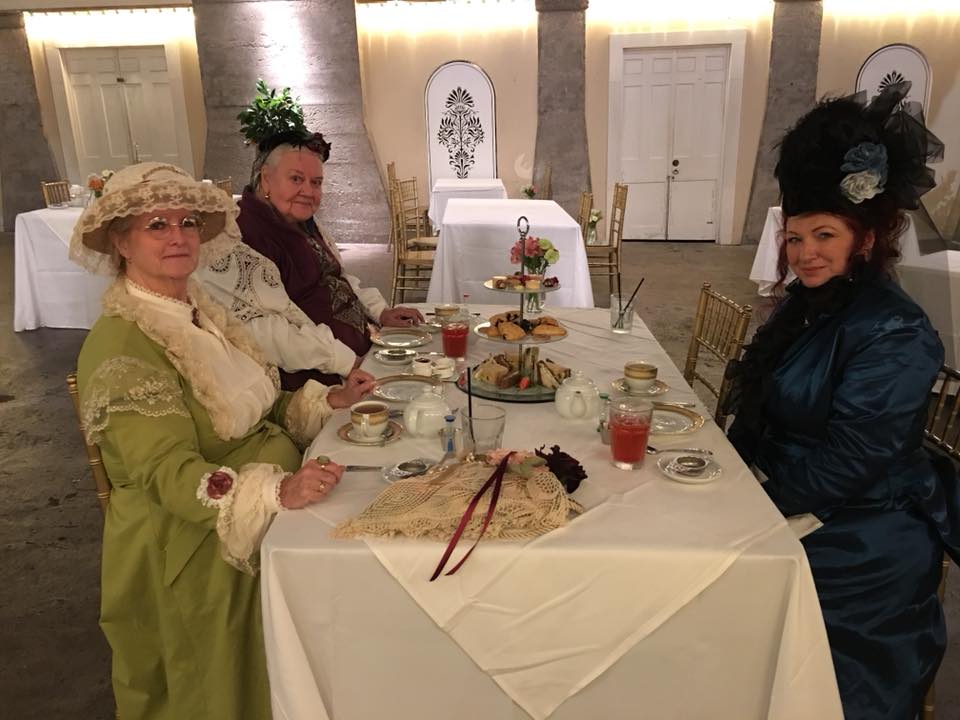 A Night In Daytona Beach's Golden Age
The evening will start off with guests being greeted by members of Historic Impressionists of Florida. They will then be directed to the upstairs where they can enjoy a complimentary champagne reception with live piano music.
We will have live entertainment throughout the evening.
Champagne Reception 6-7pm
Ahi Katsu - Sashimi Grade Ahi wrapped in Nori and Panko Breadcrumbs served on a Crisp Wonton Topped with Wakame Salad and Wasabi Aioli.
Filet Tips Crostini - Filet Tips Marinated in Fresh Herbs, Garlic and Extra Virgin Olive Oil, served with a Horse Radish Cream Topped with Micros and Edible Flowers


A table service gourmet dinner will be provided at 7pm by Chef Eric and the Club's fabulous staff. There will also be a well stocked cash bar available featuring period cocktails. The silent auction will have local items as well as some fabulous collectors pieces and wonderful local artistry
Tender Baby Lettuce with Berries - Baby Greens, Fresh Berries, Mandarin Oranges and Toasted Almonds with Goat Cheese finished with a Raspberry walnut vignette.
Surf &Turf
Filet Mignon & Blackened Shrimp.
Served on Yukon Mashed Potatoes with Grilled Asparagus & Tomato Confit then finished with a Cognac Peppercorn Cream Sauce.
New York Style Cheesecake
With a Gram Cracker Crust Topped with Raspberry Compote. Finished with Cardamom Whipped Cream.


For this event Historic event tickets will be priced at $95 each or $180 for a couple. Tables of 8 are available at a group rate.
'Education Through Impressionism'

We are a group of historic reenactors covering Florida's history from the 1500s to 1920s. Our goal is to educate the public in the diverse history of our state while allowing them to enjoy the experience. Members of our organization participate in the events throughout Florida during the year - from Spanish colonization in St. Augustine through the Seminole Wars, the Civil War, Victorian period and the Roaring 20s.

Historic Impressionists of Florida

We are a registered 501(c)3 Nonprofit organization. Our members are dedicated to "Education through Impressionism" and we are supporting 'The Carl and Patti Rang Scholarship Fund'. Florida Registration #CH59880